© 2022 dot.LA. All rights reserved
  Get in the KNOW  
  on LA Startups & Tech  
Roughly 13 hours after venture capital kingmaker Andreessen Horowitz announced plans to invest $350 million into WeWork founder Adam Neumann's new residential real estate company, a handful of fedoras are floating through a room of mostly 20-something startup founders, influencers and tech people hoping to rub shoulders with their angel. I'm at L.A. Tech Week's opening night mixer at Famecast's creator brand accelerator studio in Santa Monica.
The event—which is hosted by Zeal Reserve, 99 Ventures and Moonshots Capital, among others—is one of the final get-togethers in a day packed with nearly 40 others. Some of which included: an investor breakfast at Hermès, a lunch and fireside chat about the state of the climate hosted by venture capital investment company Blue Bear Capital, a number of crypto-centered happy hours and a yacht cruise.
Upon entering the Famecast studio, 400-some-odd guests step onto a red carpet where they pose for photos in front of a white background littered with names of the companies hosting one of L.A. Tech Week's notoriously-difficult-to-get-into events: The running joke on Twitter is that L.A. Tech Week events are "harder to get into than Harvard." Which, based on the number of people at the cafe meetup earlier in the day, who tell me their registration was either denied or "pending approval," appears, at least anecdotally, to be true.
Inside Famecast's West L.A. warehouse space, neon lights bounce off red brick walls. In the front of the house a few startup founders and people who are "looking for a side hustle," are sitting in chairs suspended to the ceiling and huddled around a floating conference table covered in yellow, purple and red cans of rosé. To the left, an installation of sorts featuring forward-facing chrome, human-shaped heads wearing headphones. Between the make-shift sushi bar and the bathroom, a woman is selling Bluetooth audio sunglasses for $100 less than the glasses typically retail.
As you make your way to the back of the warehouse, a DJ with shortly cropped bleach hair wearing white sunglasses is spinning records in front of a projector screen illuminated with a miasma of familiar NFT characters. Yes, there's an ape. And yes, it's of the Yacht-Club variety. Throughout the night, I'll hear people tell me that the project they're working on is either an NFT or "like an NFT."
One such individual is Alec Joseph, a musical artist and the co-creator of Conscious Cups which brands itself as, "a society of used coffee cups, awoken by radioactive mycelia in the Great Pacific Garbage Patch." The project appears, to me at least, to be a clever way for Joseph to promote his upcoming single "Conscious Cups." The way it works is that people who purchase one of Joseph's NFTs will have access to an exclusive Discord channel where they can connect and contribute to the project. Per Conscious Cups' LinkedIn profile, holders of Conscious Cups NFTs will have the opportunity to get their profile pictures featured in one of Joseph's upcoming music videos.
For better or worse, however, the room isn't exclusively made up of web3 people. Ann Chan, a former product manager at Meta is the founder of Berry, a frictionless drop-in audio chat app for remote teams that need to discuss and resolve issues. Chan, who I met earlier at the L.A. Tech Week cafe meetup, is at the mixer to network and meet other founders who might be interested in using Berry as they test and develop the product. When I run into her towards the end of the evening, she tells me she's struggled to meet founders with large enough teams—which is something she needs since her app is geared toward teams that have enough people to be naturally plagued by conflicts in their schedules.
Yet another non-web3 project is Roman and John Cresto's Empire ECommerce — a one-stop, automated service provider for marketplace e-commerce stores. In layman's terms, they use machine learning to help people set up and automate their Amazon stores. When I ask Empire's CEO Roman Cresto to give me his thoughts about the mixer he seems satisfied with the turnout before adding, "apparently Addison Rae's dad is here."
According to Ace Westwick, chief marketing officer at Zeal Reserve — an algorithmically powered crypto investment fund—the idea behind the mixer was to create an environment where investors, founders and people in tech can come together and have a good time. It helps, he quips, that they have enough booze to keep the "400-person crowd fully sedated for the entire night." To his credit, several other people who I meet echo Westwick's sentiment. They tell me that unlike Silicon Valley networking events, where everyone is just exchanging business cards and trying to differentiate between the posers and the money people, this L.A. Tech Week event is more like a party.
Sam Borghese, CEO and co-founder of Zeal Reserve and a professor at UCLA introduces me to Mack Abbott who works in public relations. "This is Mack," he says. "She wants to be famous." Borghese, who's been featured in Bloomberg asks Abbott, what he needs to do to be featured in Forbes 30 under 30. According to Abott, there are two different ways: 1) Go to a bunch of tech conferences and schmooze with reporters, editors and expert judges who decide on these sorts of things. 2) Write a check for $30,000. Neither avenue appears to appeal to Borghese.
As the evening winds down in Santa Monica and the first day of L.A. Tech Week is almost nearly in the books, there's an undeniable enthusiasm for the promises of an entire week of networking opportunities. With most of L.A. Tech Week's events all but full, there's no doubt that as the week progresses, attendees are sure to add to their list of Twitter followers and LinkedIn connections. I've made a handful of new LinkedIn connections myself.
While I watch waves of attendees wait for the Ubers that will take them to their hotels or their homes, I'm struck by the words of the bouncer at the beginning of the night. I asked him, while he was scanning my QR code, why he was using two different phones. First, he said something about iPhones and Androids before he stopped himself, laughed, shook his head and told me, "Technology is weird these days. But it's cool."
Can't argue with that.
A month after she died at the age of 87, Marina Helen Smith spoke at her own funeral.
Smith, the co-founder of the U.K.'s National Holocaust Centre and Museum, addressed her friends and family last week through a prerecorded video. Yet Smith was able to answer some questions during the memorial service, too. After her son, Stephen Smith, asked what she'd say at her funeral, she delivered a brief speech about her life and spirituality. She also answered questions about loved ones who attended the ceremony, creating the illusion of a real-time conversation.
Smith's interactive video was made using tech from her son's startup, Los Angeles-based StoryFile. Launched in 2017, the company lets people create videos that can reply to viewers' questions, using artificial intelligence (AI) to play relevant video clips as responses. Initially conceived as a way to preserve stories of Holocaust survivors and talk to other historical figures, StoryFile's videos are now showing up at funerals, CEO Stephen Smith said. After losing his mother, Smith understands why.
"I don't find it in the least bit weird to bring up my mother's StoryFile and talk to her," he told dot.LA. "It's strange to say that but it feels, actually, very natural."
StoryFile is part of an emerging tech trend practically pulled from the plot of a sci-fi novel. Tech companies have made tools that let people talk to the dead, from digital memorials to chatbots impersonating the deceased. In addition to helping people mourn and remember loved ones, such programs can serve as educational tools. But experts warn similar tech has been deployed for nefarious purposes, like spreading misinformation.
In June, Amazon showed how its Alexa virtual assistant could read a bedtime story in a dead relative's voice, based on a short audio recording of the deceased person. It's unclear whether that capability will become an Alexa feature, as it remains in an "exploratory research" stage, a company spokesperson told dot.LA.
Microsoft has also shown an interest in virtually reviving the dead, patenting a chatbot that pulls data from a person's social media posts. More recently, the software giant said it would restrict customer use of AI that can impersonate someone's voice, noting the tech "has exciting potential" but could be used to "deceive listeners."
Tech bringing the dead back to life has shown up in Hollywood, too, and not just as a storyline for Netflix's "Black Mirror." In 2019, Disney included late actress Carrie Fisher in a "Star Wars" film by combining real footage of her face with a completely digital character.
StoryFile's videos aren't that creepy. At least not yet. The 40-person startup doesn't put words in anyone's mouth or try to create new facial expressions like so-called "deepfake" videos. The StoryFile clips use only pre-recorded answers for a limited—but still long—list of possible questions. If you pose a question the subject doesn't have a recorded answer to, they'll encourage you to ask something else.
That said, StoryFile's Smith showed dot.LA demos of its more advanced "digital recreations," which would let people talk to historical figures like Elvis and Albert Einstein, who obviously were unavailable for interviews. Smith believes such videos could potentially be educational, letting students of the future learn physics from a digital Einstein.
The StoryFile idea can be traced to 2010 when Smith's wife, Heather Maio-Smith, was creating a historical exhibit about Holocaust survivors. She wanted to create "engaging conversations" that would let people interview survivors rather than simply hearing a "linear" oral history, Stephen Smith said. They developed the interactive interviews through a partnership with the University of Southern California. Eventually, the Smiths launched StoryFile to capture stories from historical figures and everyday people. Heather serves as StoryFile's chief visionary officer.
"How do you communicate best with the past? It's when you ask questions about the past," Stephen Smith said. "It becomes a relationship with the past, not just that history that's told to you."
StoryFile's Conversa AI has been used to create interactive interviews with the still-living likes of actor William Shatner and, more recently, Clarence Jones, the personal counsel of Martin Luther King Jr. The company also has commercial clients using interactive video for customer service or employee training. StoryFiles popping up at funerals, however, was a total surprise, Smith said. Late actor Ed Asner's memorial notably included such a video.
Other startups see a market opportunity in interactive digital memorials. El Cerrito-based HereAfter AI pairs user photos and audio interviews to similarly let family members talk to recordings of loved ones on their computers, smartphones or smart speakers. Cofounder and CEO James Vlahos got the idea after creating "Dadbot," a chatbot that shared his father's life story and personality when he was diagnosed with terminal lung cancer.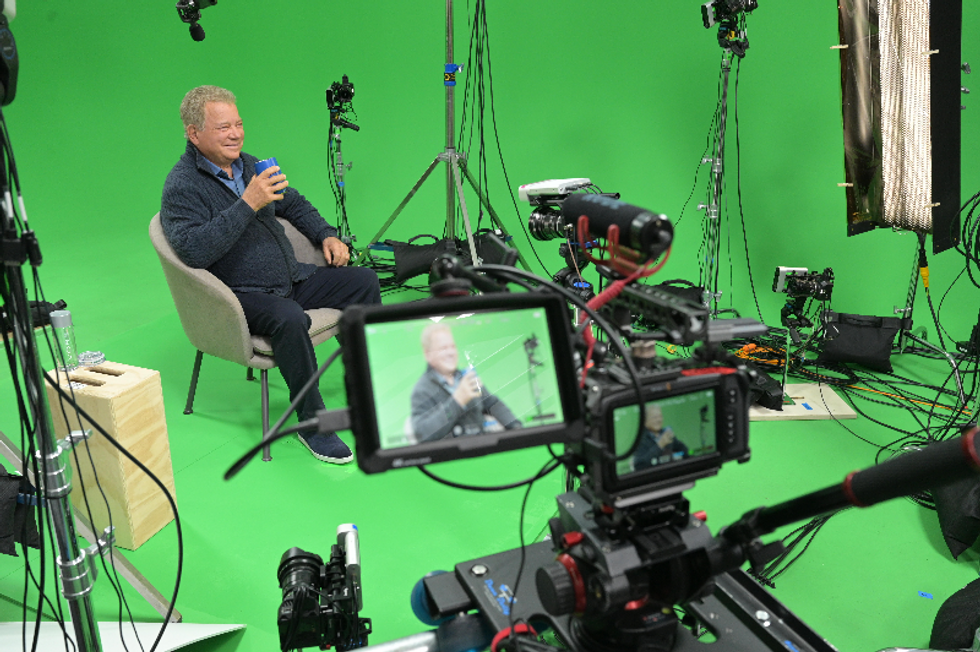 Actor William Shatner is interviewed for an interactive video inside StoryFile's L.A. studio.Photo courtesy of StoryFile
Some HereAfter AI customers have recorded interviews for up to 10 hours, Vlahos told dot.LA. "Once you get people rolling, talking about their lives, they have a lot to say," he noted. The market for this kind of product is still relatively small, with only a handful of direct competitors, he said.
Like StoryFile, HereAfter AI doesn't use its tech to generate answers to questions that weren't asked during an interview. Vlahos called that a "sensitive area." On one hand, letting AI form its own responses would make the chat experience more flexible and powerful. On the other, synthesizing what grandpa might have said starts "crossing that line," Vlahos said.
"We might get it wrong, and that might be really hurtful to someone," he said. "Or if nothing else, it might be kind of creepy."
More advanced "deepfakes," which use AI to create convincing video and audio hoaxes of someone's likeness, have gained widespread attention and criticism. Recently, a fake clip of Ukrainian President Volodymyr Zelenskyy made it look like he surrendered to Russia. Fraudsters could deploy similar programs to steal someone's identity, too, experts said. Unlike the living, dead people can't correct the record if a video is bogus, creating a unique set of ethical and philosophical questions.
Legitimate commercial ventures deploying the tech make sure users know they're not talking to a real or living person, said Arizona State University professor Subbarao Kambhampati, who teaches computer science. "But the real issue is, what if you don't know? And that can be very easily done," he added. As such tech becomes more ubiquitous, Kambhampati predicts more people won't trust their eyes and ears.
"I think in the longer term, we will get used to it. We will no longer just directly trust what we are hearing and seeing," he said. "But it's the transition that's going to be tricky, because many people can be taken because we still tend to believe what we hear, what we see, so that skepticism has to increase."
The tech could also be applied in the metaverse, a nascent vision for the internet where we might work, shop and socialize inside 3D virtual environments. Students may one day strap on virtual reality headsets and watch Abraham Lincoln deliver the Gettysburg Address—then ask the president some follow up questions.
"I think there's a lot of good that will come out of this," said Majid Abai, founder and CEO of Seena AI, a software and app development firm in Los Angeles. "Now, not only can I see a video, but I can also put a headset on and meet up with a loved one in the metaverse."
In January, Stephen Smith asked his mother scores of questions over two days to record her StoryFile. She spoke candidly about her upbringing in India and childhood difficulties transitioning to England. Smith said he learned new things about her past, such as when she had measles as a child and was put in quarantine for four months, seperated from her parents.
"I didn't know that story. She never mentioned it," Smith said. "Things that she'd [previously] not revealed were revealed. I was grateful for that information about her."
Christian Hetrick is dot.LA's Entertainment Tech Reporter. He was formerly a business reporter for the Philadelphia Inquirer and reported on New Jersey politics for the Observer and the Press of Atlantic City.
Though Silicon Valley is still very much the capital of venture capital, Los Angeles is home to plenty of VCs who have made their mark – investing in successful startups early and reaping colossal returns for their limited partners.
Who stands out? We thought there may be no better judge than their peers, so we asked 28 of L.A.'s top VCs who impresses them the most.
The list includes many familiar names. Dana Settle, founding partner of Greycroft, and Mark Mullen, founding partner of Bonfire Ventures, garnered the most votes.
Settle manages West Coast operations for Greycroft, a New York firm with $1.8 billion in assets under management. She is one of only nine of the top 100 VCs nationally who are women, according to CB Insights.
Mullen is a founding partner of Bonfire Ventures, which closed a $100 million second fund in September to continue funding seed stage business-to-business (B2B) software startups. Mullen has also been an angel investor and is an LP in other funds focusing on other sectors, including MaC VC and BAM Ventures.
Below is the list of the top ranked investors by how many votes each received from their peers. When there was a tie, they appear in alphabetical order according to their last name:
Mark Mullen is a founding partner of Bonfire Ventures. He is also founder and the largest investor in Mull Capital and Double M Partners, LP I and II. A common theme in these funds is a focus on business-to-business media and communications infrastructures.
In the past, Mullen has served as the chief operating officer at the city of Los Angeles' Economic Office and a senior advisor to former Mayor Villaraigosa, overseeing several of the city's assets including Los Angeles International Airport and the Los Angeles Convention Center. Prior to that, he was a partner at Daniels & Associates, a senior banker when the firm sold to RBC Capital Markets in 2007.
Dana Settle is a founding partner of Greycroft, heading the West Coast office in Los Angeles. She currently manages the firm's stakes in Anine Bing, AppAnnie, Bird, Clique, Comparably, Goop, Happiest Baby, Seed, Thrive Market, Versed and WideOrbit, and is known for backing female-founded companies.
"The real change takes place when female founders build bigger, independent companies, like Stitchfix, TheRealReal," she said this time last year in an interview with Business Insider. "They're creating more wealth across their cap tables and the cap tables tend to be more diverse, so that gives more people opportunity to become an angel investor." Prior to founding Greycroft, she was a venture capitalist and startup advisor in the Bay Area.
Erik Rannala is a founding partner at Mucker Capital, which he created with William Hsu in 2011. Before founding Mucker, Rannala was vice president of global product strategy and development at TripAdvisor and a group manager at eBay, overseeing its premium features business.
"As an investor, I root for startups. It pains me to see great teams and ideas collapse under the pressure that sometimes follows fundraising. If you've raised money and you're not sure what comes next, that's fine – I don't always know either," Rannala wrote in a blog post for Mucker.
Mucker has a portfolio of 61 companies, including Los Angeles-based Honey and Santa Monica-based HMBradley.
William Hsu is a founding partner at the Santa Monica-based fund Mucker Capital. He started his career as a founder, creating BuildPoint, a provider of workflow management solutions for the commercial construction industry not long after graduating from Stanford.
In an interview with Fast Company, he shared what he learned in the years following, as he led product teams at eBay, Green Dot and Spot Runner, eventually becoming the SVP and Chief Product Officer of At&T Interactive: "Building a company is about hiring correctly, adhering to a timeline, and rigorously valuing opportunity. It's turning something from inspiration and creative movement into process and rigor."
These are the values he looks for in founders in addition to creativity. "I like to see the possibility of each and every idea, and being imaginative makes me a passionate investor."
Jim Andelman is a founding partner of Bonfire Ventures, a fund that focuses on seed rounds for business software founders. Andelman has been in venture capital for 20 years, previously founding Rincon Venture Partners and leading software investing at Broadview Capital Partners.
He's no stranger to enterprise software — he also was a member of the Technology Investment Banking Group at Alex. Brown & Sons and worked at Symmetrix, a consulting firm focusing on technology application for businesses.
In a podcast with LA Venture's Minnie Ingersoll earlier this year, he spoke on the hesitations people have about choosing to start a company.
Josh Diamond founded Walkabout Ventures, a seed fund that primarily focuses on financial service startups. The firm raised a $10 million fund in 2019 and is preparing for its second fund. Among its 19 portfolio companies is HMBradley, which Diamond helped seed and recently raised $18 in a Series A round.
"The whole reason I started this is that I saw there was a gap in the funding for early stage, financial service startups," he said. As consumers demand more digital access and transparency, he said the market for financial services is transforming — and Los Angeles is quickly becoming a hub for fintech companies. Before founding Walkabout, he was a principal for Clocktower Technology Ventures, another Los Angeles-based fund with a similar focus.
Kara Nortman was recently promoted to managing partner at Upfront Ventures, making her one of the few women – along with Settle – to ascend to the highest ranks of a major VC firm.
Though Upfront had attempted to recruit her before she joined in 2014, she had declined in order to start her own company, Moonfrye, a children's ecommerce company that rebranded to P.S. XO and merged with Seedling. Upfront invested in the combination, and shortly after, Nortman joined the Upfront team.
Before founding Moonfrye, she was the SVP and General Manager of Urbanspoon and Citysearch at IAC after co-heading IAC's M&A group.
In an interview with dot.LA earlier this year, she spoke on how a focus for her as a VC is to continue to open doors for founders and funders of diverse backgrounds.
"Once you're a woman or a person of color in a VC firm, it is making sure other talented people like you get hired, but also hiring people who are not totally like you. You have to make room for different kinds of people. And how do you empower those people?"
Brett Brewer is a co-founder and managing director of Crosscut Ventures. He has a long history in entrepreneurship, starting a "pencil selling business in 4th grade." In 1998, he co-founded Intermix Media. Under their umbrella were online businesses like Myspace.com and Skilljam.com. After selling Intermix in 2005, he became president of Adknowledge.com.
Brewer founded Santa Monica-based Crosscut in 2008 alongside Rick Smith and Brian Garrett. His advice to founders on Crosscut's website reflects his experience: "Founders have to be prepared to pivot, restart, expect the unexpected, and make tough choices quickly… all in the same week! It's not for the faint of heart, but after doing this for 20 years, you can spot the fire (and desire) from a mile away (or not)."
Eva Ho is a founding partner of Fika Ventures, a boutique seed fund, which focuses on data and artificial intelligence-enabled technologies. Prior to founding Fika, she was a founding partner at San Francisco-based Susa Ventures, another seed-stage fund with a similar focus. She is also a serial entrepreneur, most recently co-founding an L.A. location data provider, Factual. She also co-founded Navigating Cancer, a health startup, and is a founding member of All Raise, a nonprofit that supports and provides resources to female founders and funders.
In an interview with John Livesay shortly before founding Fika, Ho spoke to how her experience at Factual helped focus what she looks for in founders. "I always look for the why. A lot of people have the skills and the confidence and the experience, but they can't convince me that they're truly passionate about this. That's the hard part — you can't fake passion."
Brian Lee is a co-founder and managing director of BAM Ventures, an early-stage consumer-focused fund. In an interview with dot.LA earlier this year, Lee shared that he ended up being the first investor in Honey, which was bought by PayPal for $4 billion, through investing in founders and understanding their "vibe."
"There's certain criteria that we look for in founders, a proprietary kind of checklist that we go through to determine whether or not these are the founders that we want to back…. [Honey's founders] knew exactly what they were building, and how they were going to get there."
His eye for the right vibe in a founder is one gleaned from experience. Lee is a serial entrepreneur, founding LegalZoom.com, ShoeDazzle.com and The Honest Company.
Alex Rubalcava is a founding partner of Stage Venture Partners, a seed venture capital firm that invests in emerging software technology for B2B markets. Prior to joining, he was an analyst at Santa Monica-based Anthem Venture Partners, an investor in early stage technology companies. It was his first job after graduating from Harvard, and during his time at Anthem the fund was part of Series A in companies like MySpace, TrueCar and Android.
He has served as a board member in several Los Angeles nonprofits and organizations like KIPP LA Schools and South Central Scholars.
"Warren Buffett says that he's a better businessman because he's an investor, and he's a better investor because he's a businessman. I feel the same way about VC and value investing. Being good at value investing can make you good at venture capital, and vice versa," Rubalcava said in an interview with Shai Dardashti of MOI Global.
Mark Suster, managing partner at Upfront Ventures, is arguably L.A.'s most visible VC, frequently posting on Twitter and on his blog, not only about investing but also more personal topics like weight loss. In more normal years, he presides over LA's biggest gathering of tech titans, the Upfront Summit. Before Upfront, he was the founder and chief executive officer of two software companies, BuildOnline and Koral, which was acquired by Salesforce. Upfront backed both of his companies, and eventually he joined their team in 2007.
In a piece for his blog, "Both Sides of the Table," Suster wrote about the importance of passion — not just for entrepreneurs and their businesses, but for the VCs that fund them as well.
"On reflection of the role that I want to play as a VC it is clearly in the camp of passion. I really want to start my journeys only with people with whom I want to work closely with for the next 5–7 years or more. I only want to work on projects in which I believe can produce truly amazing change in an industry or in the world."
Lead art by Candice Navi.
Ben Bergman is the newsroom's senior finance reporter. Previously he was a senior business reporter and host at KPCC, a senior producer at Gimlet Media, a producer at NPR's Morning Edition, and produced two investigative documentaries for KCET. He has been a frequent on-air contributor to business coverage on NPR and Marketplace and has written for The New York Times and Columbia Journalism Review. Ben was a 2017-2018 Knight-Bagehot Fellow in Economic and Business Journalism at Columbia Business School. In his free time, he enjoys skiing, playing poker, and cheering on The Seattle Seahawks.
© dot.LA All rights reserved