© 2022 MDD Group FZE LLC ALL RIGHTS RESERVED.
Place/Date: – July 9th, 2022 at 8:58 am UTC · 3 min read
ApolloFi.xyz, the first socialFi platform built on multi-chain, has announced the launch of NFT equity and the token APO will list on Uniswap, and released its public beta testing.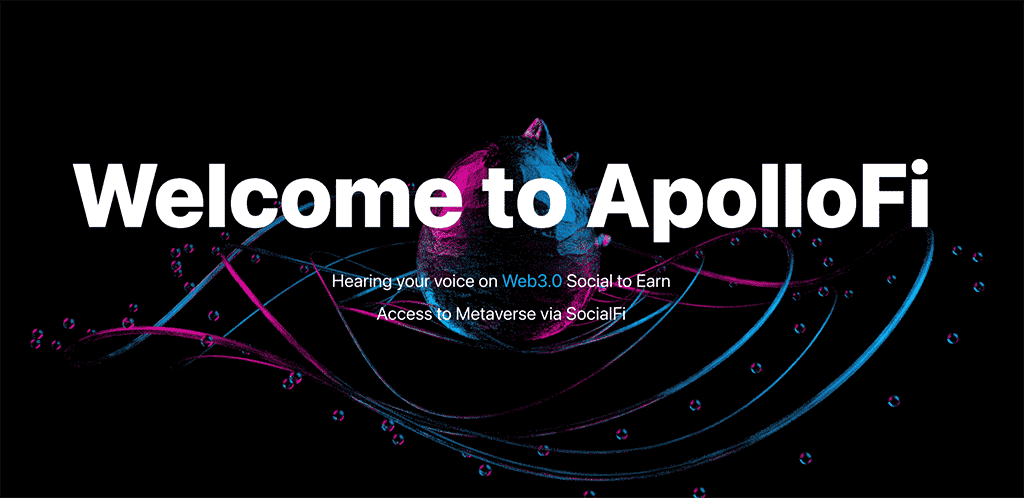 There is no doubt that data is the basic element, and all internet activity revolves around data. Previously, the monopoly of Internet giants on data reached its peak, and the data revolution was about to emerge. The emergence of NFT has realized the cutting ceremony of data monopoly to a certain extent. This kind of new data representing unique and individual ownership has gradually separated the data gold mine from the monopoly.
With this in mind, ApolloFi.xyz has built socialFi products, using NFT as its asset proof and identity features, from multi-chain as the technical entry point, and creating a "social to earn" as the attention economic incentive model. From the launch of the social product, each part is based on a unique concept and complex design.
The ApolloFi.xyz has launched the second round of public beta on July 11. In this round, social networking, NFT purchase, staking, and upgrading are available.
As a web3 SocialFi representative, Social-to-Earn by ApolloFi.xyz is more focused on attention incentives for socializing and connecting user identities from traditional social networks. ApolloFi offers content creation rewards, community contribution rewards, and DAO participation rewards. It tries to use the new Social-to-Earn incentive model to inspire more creators and social network users, break the walls built by the Internet giants, and remove barriers on the Internet.
For more insights on ApolloFi Social to Earn, view.
In  ApolloFi.xyz, NFT acts as the proof of ownership, and with this boost, users can get more token rewards. NFT will target the souls and on-chain behaviors of users, who, as the main participants in the Apollofi.xyz ecosystem, will acquire NFT fragments and upgrade NFT with the probability of smart contract and random number technology.
Users can obtain A NFT (basic NFT) through a whitelist or partner's Free Mint opportunity to experience unique social rights and ownership rights. NFT rights will be released under the tracking of user behavior. With this enhanced sociality, Apollofi.xyz's sociability can bypass today's hyper-melting in favor of a more transformative, diverse future of increased rewards across social distances.
To lower the barriers, ApolloFi.xyz launched the Omnichain network based on LayerZero, allowing users to connect Ethereum, BSC and Polygon, which can resolve the circulation and interoperability of single-chain NFTs' Inadequate and other fragmentation embarrassing.
In ApolloFi.xyz, you can prove that your Web3 identity is more attractive than reality. Thanks to NFT, the value of socialization will extend from the top-down and from the inside out. In addition to establishing a more complete social platform and a more inclusive vision, ApolloFi.xyz encourages users to socialize freely and engage in social charm.
ApolloFi.xyz recently reaches partnerships with BitKeep and HOURAI. Now, the second round of public beta has been officially launched and APO trading is available on Uniswap. There will be several features, including NFT&fragment purchase, NFT staking, NFT upgrading, social to earn and more.
To create Web3 social networking possible, ApolloFi.xyz has assembled a global team of 20 developers, designers and other operational talents who are passionate about Web3 and NFT, all of whom are actively engaged in the boundless vision of the future of Web3 social.
ApolloFi links: Website, Twitter, Discord, Telegram.
July 9th, 2022
July 9th, 2022
July 8th, 2022
Copyright © 2022 MDD Group FZE LLC All rights reserved.
Reproduction in whole or in part in any form or medium without express written permission of MDD Group FZE LLC is prohibited.