Helping you make informed decisions on investing, money, equities and personal finance. Seasoned investors or newbie traders, our financial education corner has something for all.
Catch the latest updates from Australia's premier stock exchange & market indices.
NFT artist Ape Rave Club headlines Tomorrowland; What it means for Web3
Ankit is a law graduate. He holds an interest in public policy, corporate ethics, development economics, macro-economic policies, and sustainable development….
Supriya is a Research Editor at Kalkine. She comes with a rich experience of 11 years in online journalism. She has worked for leading media brands like Zee News & MSN Australia, specialising in world affairs. She is a Bachelor of Science (Honours) g…
What is Web 3.0? Also dubbed Web3, and sometime referred to as the metaverse, it is an anticipated move of the internet towards a setting where users, not companies, will dominate. As of now, tech giants like Google and Facebook have excessive control over people's browsing experiences. Web 3.0 claims to decisively mark an end to this.
But the reach of Web 3.0 is limited for now. DeFi protocols, which claim to be a part of Web 3.0 finance, have had a mixed bag spell so far, comprising successes and failures. Now, an entrant by the name of Ape Rave Club is claiming to usher in the shift of music and entertainment towards Web 3.0. Let us explore this in detail.
Very limited information on the Ape Rave Club project is available in the public domain. The official website has links of a Twitter account and also a YouTube channel. However, the subscriber count on YouTube is not even hundred, as of writing, and any content is yet to be uploaded.
What is indicated on the website of Tomorrowland — a Belgian music festival — is that Ape Rave Club is linked to the popular BAYC (Bored Ape Yacht Club) NFT project, which is based on the Ethereum blockchain. Tomorrowland's blog also suggests that BAYC #9184 is behind the Ape Rave Club. Ape Rave Club is in the news because of a recently concluded performance on Tomorrowland's stage.
It is being said that the performance was led by an "NFT Artist". Pictures of the performance, where an artist donning a BAYC NFT mask can be seen playing music, have been shared by Ape Rave Club on its Twitter handle.
A renowned music festival, Tomorrowland has been running for the last 17 years. But now, according to a latest blog on its website, Tomorrowland is entering the NFT space with its Medallion of Memoria collection, which will provide special access to its events.
Ape Rave Club's Tomorrowland performance is being touted as the first-of-its-kind event by a digital artist. Meanwhile, in the wider NFT verse, Beeple remains arguably the most popular artwork creator.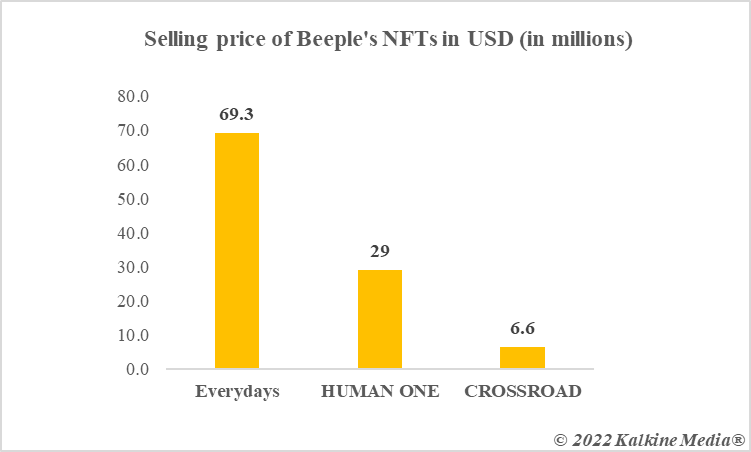 The coming together of Tomorrowland and Ape Rave Club can be viewed as a small step towards Web 3.0. Whether it will mark a decisive shift of entertainment towards "decentralised internet" is yet to be seen. For now, the wider cryptocurrency and NFT verse is passing through a deeply subdued phase where prices of assets have fallen sharply. Only time will tell if Ape Rave Club's NFT artist status can make an impact for long.
Risk Disclosure: Trading in cryptocurrencies involves high risks including the risk of losing some, or all, of your investment amount, and may not be suitable for all investors. Prices of cryptocurrencies are extremely volatile and may be affected by external factors such as financial, regulatory, or political events. The laws that apply to crypto products (and how a particular crypto product is regulated) may change. Before deciding to trade in financial instrument or cryptocurrencies you should be fully informed of the risks and costs associated with trading in the financial markets, carefully consider your investment objectives, level of experience, and risk appetite, and seek professional advice where needed. Kalkine Media cannot and does not represent or guarantee that any of the information/data available here is accurate, reliable, current, complete or appropriate for your needs. Kalkine Media will not accept liability for any loss or damage as a result of your trading or your reliance on the information shared on this website.
Copyright © 2022 Kalkine Media Pty Ltd. All Rights Reserved.
ACN:629 651 672 ABN:84 629 651 672