Helping you make informed decisions on investing, money, equities and personal finance. Seasoned investors or newbie traders, our financial education corner has something for all.
Catch the latest updates from Australia's premier stock exchange & market indices.
What is Kevin Hart NFT? A look at celebrities' plunge into NFTs
Ankit is a law graduate. He holds an interest in public policy, corporate ethics, development economics, macro-economic policies, and sustainable development….
Shaghil Bilali is a research editor with 15 years of experience in different verticals across media. He has worked with some of the leading media organisations in India. Before joining Kalkine Media, he was with Microsoft News' Canada overnight opera…
Comedian and actor Kevin Hart is not the only celebrity pushing non-fungible tokens (NFTs). The list includes names like Paris Hilton, Madonna, and Snoop Dogg. Actor Keanu Reeves has also commented that he will support NFT artists. Separately, sportspersons like Cristiano Ronaldo and Coco Gauff have also jumped on the bandwagon.
NFTs, which are blockchain records of some underlying artwork or other items are being viewed by some as alternatives to altcoins, which, in turn, are an alternative to Bitcoin. Let us explore the latest NFT launch by Kevin Hart.
Titled "Confessions From The Hart", the presale of the collection was announced by Hart on his Twitter account almost a week back. A Discord link was also shared by the comedian, and it was suggested that some of the participants in the presale can win free NFTs. Another link of the Moonwalk NFT platform was also shared by Hart, with the message of a public sale.
Over the past few days, the comedian has been regularly retweeting messages from NFT lovers who have purchased an asset from Hart's NFT collection. The assets are being described as Hart's alter egos and are simply cartoons depicting his facial expressions.
Interestingly, Hart has also talked about the launch of a metaverse-based private screening room, which will be accessible to his NFT holders. The room will screen exclusive content related to him, it is said. Hart has also been tweeting enthusiastically about the metaverse and Web 3.0.
On OpenSea, the floor price of Kevin Hart's NFT collection is 0.03 ETH, as of writing.
By one measure, Hart is a very late entrant in NFTs and the metaverse. Snoop Dogg and Paris Hilton have already been in this space for long now. Madonna entered the NFT verse in collaboration with Beeple, one of the top artists by sales volume. Many view the entry of celebrities and sportspersons as a big push for both NFTs and the wider cryptoverse.
The list of top NFTs, however, does not include celebrities. Beeple's Everydays is said to be the costliest ever, and the NFT represents a collage of multiple digital photos. Another top name in NFTs is artist Pak. Projects like CryptoPunk and BAYC have NFT assets that have sold for prices higher than that of NFTs of celebrities.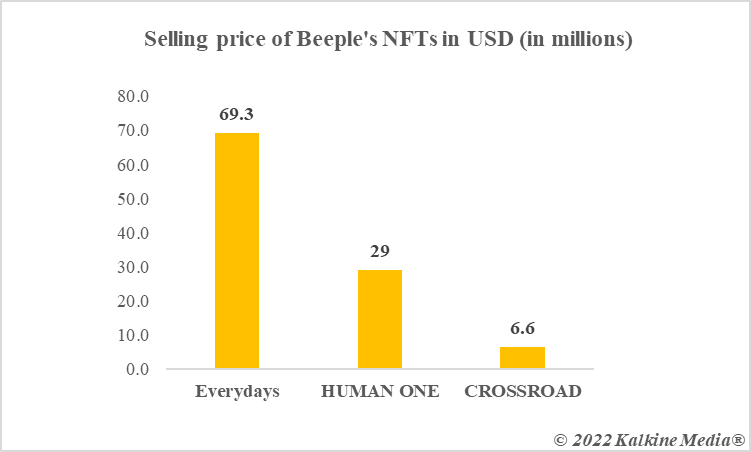 Kevin Hart NFTs have been launched in the market, and the comedian is tweeting about the metaverse and Web 3.0. The assets, however, do not command a very high price as of now. The plunge of celebrities into the NFT verse is yet to dislodge names like Beeple and CryptoPunk from the top positions.
Also read: Amid GameStop & LimeWire platforms' launch, a look at top NFT artists
Risk Disclosure: Trading in cryptocurrencies involves high risks including the risk of losing some, or all, of your investment amount, and may not be suitable for all investors. Prices of cryptocurrencies are extremely volatile and may be affected by external factors such as financial, regulatory, or political events. The laws that apply to crypto products (and how a particular crypto product is regulated) may change. Before deciding to trade in financial instrument or cryptocurrencies you should be fully informed of the risks and costs associated with trading in the financial markets, carefully consider your investment objectives, level of experience, and risk appetite, and seek professional advice where needed. Kalkine Media cannot and does not represent or guarantee that any of the information/data available here is accurate, reliable, current, complete or appropriate for your needs. Kalkine Media will not accept liability for any loss or damage as a result of your trading or your reliance on the information shared on this website.
Copyright © 2022 Kalkine Media Pty Ltd. All Rights Reserved.
ACN:629 651 672 ABN:84 629 651 672